CASTORS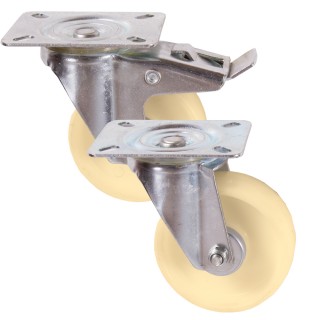 Light Duty
Wheel Diameter 50mm to 125mm
Load Capacity up to 200kg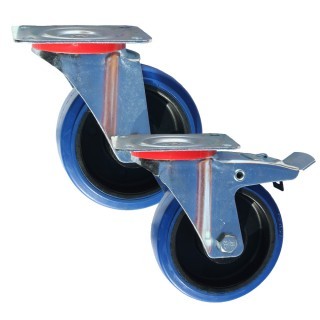 Medium Duty
Wheel Diameter 80mm to 200mm
Load Capacity up to 500kg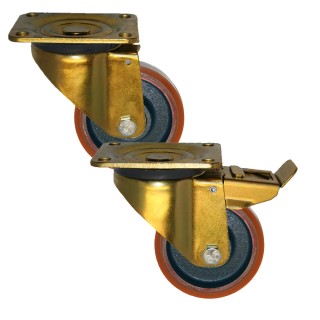 Heavy Duty
Wheel Diameter 100mm upwards
Load Capacity up to 11400kg
---
Need some expert help?
Our experts will help you find the perfect castors.

Castors for any Industry
We stock a large range of Industrial Castors, Institutional Castors and Medical Castors.
Our castors and wheels go into many industries including Manufacturing & Fabrication, Construction, Wholesale, Food & Beverage, Hospital & Medical Equipment and Building Installations.
We have contacts with many European castor manufactures as well as companies in the UK who can manufacture specialist requirements. If you can't find what you are looking for, please contact us.
Reids Castors can supply an extensive range of castors to suit a variety of industrial applications. Our ranges include Light Duty Castors, Medium Duty Castors, Heavy Duty Castors and Extra Heavy Duty Castors, as well as Specialist Castors and Wheels.
These are available with a plate fixing or a Bolt hole fixing. The bracket options are swivel, braked and fixed brackets, which you can decide which wheel type is suitable for your needs from Rubber, Nylon, Polyurethane, Pneumatic, to Cast Iron wheels.
Please Note load capacities are based on evenly distributed loads.
Can't find what you are looking for? Call us!
If you can't find exactly what you're looking for please give us a call, we may be able to help.
To get in touch please call 0115 989 9551 or email sales@reidsofnottingham.co.uk.